A Regency fashion parade at Woodford Academy July 2014
"Thank you to all who attended Lorna McKenzie's Regency fashion parade. The Parade was both highly entertaining and very informative. We were absolutely thrilled to have a full house. The Woodford Academy Management Committee is very grateful for the ongoing support from our creative community which is critical in ensuring that this historic building remains open for all to experience and enjoy. Thanks again to Lorna McKenzie and her wonderful models."
Many couldn't attend, so I am giving you a taste of the event through my blog. Enjoy!
War, revolution, lost colonies of the Americas
dangerous for aristocrats. This is France in the late 18th century. Robspierre's reign of terror is in full swing; the rules and laws change, and then change again. The monarchy is gone, the French Revolution changes the world.
Alex is a member of the 95th Rifles re-enactment group. The 95th is a Napoleonic British Regiment raised in 1800. Deane is his wife and has been allowed to accompany him on his campaign. This means he has a better chance of survival, as he has a cook, nurse; help meet and, hopefully won't get Syphilis!
To match Alex's 95th uniform Deanne is wearing her camp followers out fit which is a dark green woolen skirt, striped yellow and white vest. Tartan navy and green shawl and white plain bonnet.
their family - , widows pensions as we know them do not exist. Sydney Town, with its lure of wealth to be made through new land unencumbered by aristocracy, calls a siren song from afar. Adventurous widows of substance take the chance, book a place on a ship sailing to Sydney Town to try their luck and see what is possible.
moved into soft and simple gowns, with minimal underpinnings, the men are keen to emulate the 'huntin, shootin and fishin' gentry of England. Gone are lace, bright colour and silk. An English gentleman wears russets, greens, yellow nankin, buck skin pants so tight that you can see everything and I mean 'everything'. Beau Brummel will arrive soon and take colour from men's wardrobe forever, well mostly, his is a style of basic black, white cravats and spotless linens. But the countryman still revels in his dull coloured sports wear and men of today can be grateful as this lead the way to jeans!
John is sporting fashionable trowsers (sic) of the mid Regency period. Trousers were first worn by sailors and working men before 1800, and were adopted by the fashionable set around 1810. Originally known as "slops", trousers were loose-fitting and ended at the ankle. As trousers were adopted, long stockings with decorative clocks were replaced by half-hose, all but destroying the stocking industry, which had thrived since breeches had become fashionable.
new land. America isn't as easy to them anymore and we're the 'new kid on the block' and we all know its 'first in, best dressed' so out they flock to the great southern land of promising futures of squatocracy and living off the sheep's back. Fine wool means wealth, everyone wears it, all uniforms are made from it, you can become as rich as a Nabob off the 'sheep's back'.
Deanne is wearing a brushed cotton , regency style dress for warmth in a checked purple. Over the top she's sporting a tartan Spencer and matching cap.
As the Regency moves on, dress starts to lose the simple Grecian lines and move into a more structured format and by the teens the fashion style is influenced by the gothic styles of the Renaissance. Gowns start to take on aspects of style, such as split sleeves, many more trims and furbelows, Renaissance style head dresses, etc. Miss Austen makes fun of the Gothic revival in Northanger Abbey, while others, such as Mrs Radcliffe, write tales of gothic horror that curl the hair of her Regency readers.
'Prinny' The Prince Regent, ascends the throne of England as George IV on the 29 January 1820, the regency era is over.
---
Making an 1814 evening gown from Ackerman's Repository
A white crape, or fine muslin petticoat, worn over white satin, embroidered in silver lama round the bottom. A bodice of olive, or spring green - green satin. ornamented with a silver stomacher. Short, full sleeve, rounded bosom, trimmed with a full silver border to correspond. A fan frill of fluted lace, continued around the back, and terminated at the corner of the bosom. A silver fringe round the bottom of the waist. Ackerman's Repository March, 1814.
I choose this gown for my
Jane Austen Festival Australia
1814 challenge. It was simple, elegant and relatively easy to recreate. Or so I thought. Little did I know that it would become the 1814 bodice from hell!
I went shopping for some green satin at the local fabric stores, everything but green of any kind. I bought all the trims, the silver plastic 'lama' ribbon for embroidering, silver fringing and two mother of pearl buttons for the sleeves.
I went home and searched through my stash for fabric to go with the silver. I decided on a royal blue saree silk Georgette that I could interline with a pale blue taffeta. Blue and silver always look well together.
To create the 'rounded bosom' bodice, I cobbled various Regency pattern drafts together. For fitting, I'm using my paper paste dummy that was created over my stays. Its actually slightly bigger than I am due to the T-shirt and paper, which means I can make the gown nicely tight, but on my more malleable body it will be comfortable. You can make one for yourself, it saves you having to put stays on and off for fittings. Plus fitting oneself is NEVER easy!
Now the trouble starts, a stomacher to me is an 18th and earlier front in a V shape, often covewred by lacing. Its highly embroidered and decorated. The one below from the Museum of London is a beautiful example.
Stomacher for a spitalfields woven silk Court dress. The stomacher is roughly triangular, with a straight bottom edge; trimmed with eight rows of metal thread braid with bows and tassels alternating with seven rows of ivory, yellow, purple, green and pink silk rosettes; edges finished with cream silk tape. The Court dress was traditionally thought to have been worn by Mrs. Ann Fanshawe when her father, Crisp Gascoyne, was Lord Mayor of London in 1752-53. Mrs. Fanshawe acted as her father's Lady Mayoress as her mother had died in 1740. Image from Museum of London
This what I had in my mind, so why did I go off in some weird 'Heidi or Snow White meets Regency' fantasy land? Reader, I know not, but off into this land I went and here's the results.
I frog stitched off the front pale blue stomacher and moved to the next version. I thought that as the stomacher was unseen in the image I could be as creative, or not, as I liked. So I placed a single line of silver 'lama' down the front. This looked better and I started to relax, but a very lame (pun intended) attempt at a stomacher! I couldn't leave it at that.
Having solved the stomacher issue, or so I thought, I added the skirt. I needed a sheer fabric and the only one I could get was a sheer spotted polyester, plastic as hell. Honestly our local fabric shops get worse and worse, no wonder I mostly buy online. Sadly I left this project too late in the day to fetch good silk from OS.
Final fiddle with the stomacher. I think this version is best and frankly I'm over this dress.
It should have a satin underlining but I will wear it over my muslin petticoat as I'm not wasting more time on it. I hope I like it more when its on me, but as I'm still making my new short stays, that has to wait for the weekend.
My next project is an 1814 day gown from Ackerman's, hopefully I will enjoy the process more!
---
Making my own Regency dance slippers and boots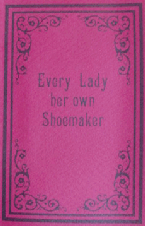 I am running a demonstration class on how to create your own Regency dance slippers at this year's (2014)
Jane Austen Festival Australia
. Dance shoes of the period. as can be seen below, were often soft silk slippers, tied on simply with ribbons. They would have shoe roses attached with pins and the soles would be silk to enable good movement on the dance floor. There are contemporary accounts of slippers soles being ripped to shreds over the duration of a ball!
I was originally inspired by a blog post from the Oregon Regency Society,
Miss Charlotte's Shoe Tutorial
. Miss Charlotte's method is easy, the shoes are machine,stitched, and for those of us who like our shoes to match or compliment our gown, we can be well satisfied.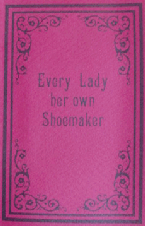 I then read
Every Lady Her Own Shoemaker, by A Lady,
a reprint I found in a second hand book shop. A very lucky find indeed! Its a small booklet
originally published in 1855. Its a great instructional manual if you would like to try your hand at being a cobbler and gives you an understanding of period shoe making. The ladies shoes in this book are made of light material and require no heavy equipment to make. There is page after page of instructions and pull out pages of patterns so you can cut your shoes out with a minimum of trouble. It also has designs for ladies gaiters. The book strongly suggests that you should use rubbers (1851 Goodyear's patent) to protect your shoes in damp weather and to use a sewing machine to speed the work along.
So being equipped in different methods, contemporary and mid 19th century I set off to create. So far I have made a test shoe toile in calico to get the fit right and I tried my hand at a nankin boot.
My first slippers were inspired by these lovely silk
Blue Slippers 1790-99
My apprentice Phoebe followed my instructions and reproduced a very fair copy of an early period slipper.
While she did that, I mocked up a Nankin half boot, using the same pattern idea, but elongating the top. I was inspired by these 1812-1820 ladies boots. Image @Victoria & Albert Museum.
I shall create patterns for this tutorial at the Jane Austen Festival Australia, I'm looking forward to sharing what I have learnt!
***********************************************************************************************
I'm The Tailor's Apprentice, maker of The Miss Page 1940s reproduction patterns, gowns developed from pattern pieces found amongst the remnants of Miss Violet Florence Page's life and work. Affordable, elegant, and unique garments from the 1940s war years.
All my patterns are available on Etsy and my website where you'll find out more about me as well. This year I am publishing an 1820s gown wardrobe pattern and an Australian Army Nurses Services WWI uniform pattern.
If you'd liked to be included on my mailing list for events, pattern release dates and interesting snippets about vintage and historic sewing, please subscribe to my Newsletter on The Tailor's Apprentice website.
---
Reproducing a 50s shirtwaist dress for a client
The bodice is a simple blouse style, the skirt however is a different kettle of fish, its pleated in sets of three and the front zip is hidden in a nest of pleats.
I took a copy pattern from the bodice and fitted it to the client, we lengthened the waist as the original was too short for her. I then started on the skirt. The fabric I was using was modern width and I had to calculate the width of the skirt and the pleats required to fit the waist of the bodice. Now that was fun ... not really, but an interesting exercise at least. I managed to finish the dress for a Christmas party.
Here's the new fabric, roses and scissors, really unusual! Far more busy and way less geometric than the original dress. A fabric will always change the outcome of a pattern, the fabric drape, colours patterns, all influence the style.
The fabric chosen for the reproduction
Here's the result. I'm pleased with it and the client loves it, she wants 12 more in different fabrics, LOL! I'd prefer to move onto the next gown in her collection!
Gown on the client
---
12th Night Feast - making medievial fruit mince pies
The feasting table
We celebrated 12th Night with a food feast for 22 friends. It was a marvellous evening, we ate, we laughed, our two Kings of Misrule, who found the token in the deserts, kept us entertained and made us entertain them with games and caroling. We played 'Snip Snap Dragon', 'Pass the Lemon' (my stomach muscles are still sore from laughing!), we sang carols, played rhyming and category games and had a fabulous time.
The food was a mix of contemporary and historic recipes, the oldest being a fruit mince pie recipe from 1498. I found the recipe on the interwebs and didn't book mark it and can no longer find it, so I am writing it here while its still in my memory because they were delicious!
Fruit mince pies with pork mince
Fruit mince pies from 1498
The filling makes approx 30 small pies
Enough short crust pastry to make 30 small pies, home made or shop bought
Pie filling
500 gms of pork mince
1 cup of fortified wine (I used port)
6 strands of saffron in a cup of warm water
1 teaspoon ground pepper
1 teaspoon salt
1 teaspoon cinamon
1 teaspoon allspice
1 teaspoon ground mace (I used nutmeg)
1/4 teaspoon ground cloves
1 apple, peeled and grated
Rind of one orange
2 tablespoons vinegar or verjuice
60 gms of breadcrumbs
1 cup of chopped prunes
1 cup of chopped dates
1 cup of chopped raisins
1 egg
Mix all the pie filling ingredients in a bowl, cover and place in fridge, allow all the flavours to mature over 24 hours.
Make 30 small pie cases, I didn't use a pie top, but you could. Then, place your mince mixture into your pastry cases, bake for 15 minutes or until your pastry is brown and the mixture cooked. I taste tested it to be sure :)
N.B. because of the meat, don't keep the mixture longer than 3 days in the fridge before baking.
Explaining Kings of Misrule
Our 12th Night Feast menu:
Wassail!


12th Night Renaissance Feast

First remove

Pea pottage with mint and sour cream
Or
Roasted Pumpkin pottage
Limited availability
Fruit mince pies
Dried fruits and spices from the Holy Land, mixed with pork and macerated in port
Pork wrapped in pastry
Pork, parsley, onion, spices from the Holy Land
Dipping sauce
Yogurt, orange peel and mint

Second remove

Pastistiou
A delicacy from Greece with the new food sensation, pasta
Beef, spices from the Holy Land, tomatoes from the Americas, eggs, milk, wheat pasta

Third remove

Turkey
Stuffed with pork, turkey & cranberries from the Americas, spices from the Holy Land
Roasted potatoes
A new vegetable from the Americas
Parsnip, porcini and potatoes cooked in cream
French beans with pancetta

Fourth remove
King Cake
Natale Torte

To give us our Kings of Misrule for this 12th Night festivities, a bean has been placed in both cakes. If you get the bean, you will be crowned King of Misrule and J-L shall give you a list of entertainments to keep the company amused.

Most dishes are based on Renaissance recipes
Wassail!
Passing the lemon!
Its lovely to see adults playing!
The laughter was so loud the neighbours remarked on it next day :)
Our dog Astro, King of Misrule all year round!
***********************************************************************************************
I'm The Tailor's Apprentice, maker of The Miss Page 1940s reproduction patterns, gowns developed from pattern pieces found amongst the remnants of Miss Violet Florence Page's life and work. Affordable, elegant, and unique garments from the 1940s war years.
All my patterns are available on Etsy and my website where you'll find out more about me as well. This year I am publishing an 1820s gown wardrobe pattern and an Australian Army Nurses Services WWI uniform pattern.
If you'd liked to be included on my mailing list for events, pattern release dates and interesting snippets about vintage and historic sewing, please subscribe to my Newsletter on The Tailor's Apprentice website.
---